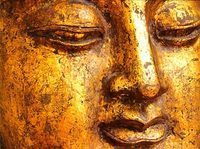 Dharma Discussions
Please join us every Wednesday evening for a discussion group on the Buddhist teachings.
The Wednesday meditation session begins at 7:00 p.m. and ends at 8:00. New meditators should arrive at 6:30 p.m. for free meditation instruction.
The book discussion, Dharma Discussions, starts at 8:00 p.m. and lasts until 8:45.
We are starting a new book on Wednesday, April 1st, The Heart of the Buddha's Teaching by Thich Nhat Hanh. Please join us any Wednesday. No previous knowledge or preparation for the discussion is needed.
Suggested donation: $5.00